A dreamy night awaits you at the Hotel Spa Villalba!
On July 29, at 20:00 hours, brace yourself for an unforgettable experience. Seize this unique opportunity to delight in the exclusive concert of Pending Themes, performed by the talented father-daughter duo, Arantxa and Harold Deroy. This concert is not merely music, it's a sensory and emotional journey, where every note resonates with your emotions.
Picture yourself immersed in the magic of astounding melodies played on a variety of instruments such as the piano, the violin, the guitar, the mandolin, the bass, and percussion. Pending Themes are a fusion of styles that will envelop you in a wave of profound emotions and take you on a ride full of color and sentiment.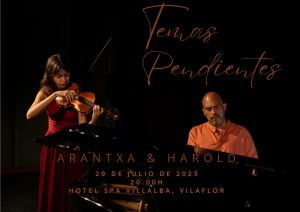 You can choose to just enjoy the concert for €20, which also includes a drink to further enhance the experience. However, why not make this night a complete experience? Dive into the sophistication of a delicious dinner at our prestigious restaurant before letting the rhythm of the music take over.
Our Hotel Spa Villalba, renowned for its elegance and top-tier service, is the perfect backdrop for this musical journey. Picture yourself surrounded by the beauty and tranquility of our facilities, music floating in the air, delicious food, and a drink in your hand. This is the paradise that awaits you!
Don't miss this unique opportunity. Book your ticket today and come live a night of charm, music, and emotions. This is the experience you deserve, the experience you will never forget!
Categories: blog
« Starry Nights: A Romantic and Natural Adventure