Starry Nights: A Romantic and Natural Adventure
Are you seeking a unique romantic getaway? Are you a nature and universe enthusiast? Our hotel offers you a unique experience that intertwines both passions. Come and discover the wonders of the firmament from our exclusive terrace.
"Our Starry Nights" will be held on the following dates:
June 17
July 8
July 15
August 5
August 12
August 19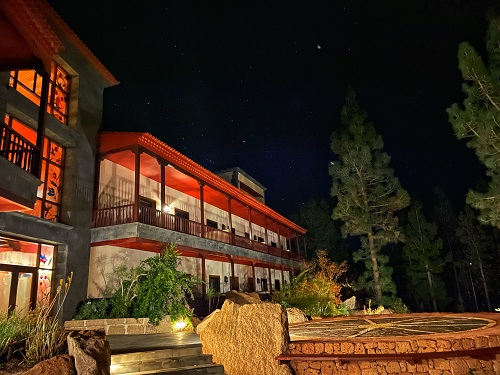 This exclusive event invites you to an intimate tour of our green gardens, under a starlit sky. Accompanied by an expert guide, you will discover the beauty of constellations and the mysteries of the universe.
After the walk, you will have the opportunity to use our advanced Celestron Nexstar Evolution 8 telescope on our private terrace. Get a close look at planets and stars, creating unforgettable memories with your loved one.
Our hotel guarantees absolute comfort and a unique experience. Enjoy our luxury facilities and make your getaway an enduring memory.
If you are already a guest at our hotel, this activity is included in the price of your room. If you are not staying with us but would like to participate, you can reserve your place by dining in our restaurant, the activity will be included after your meal.
To make your reservation, simply call 922 709 930. Don't miss the opportunity to surprise your partner with a night under the stars. Remember, places are limited to guarantee the exclusivity of this celestial experience. We eagerly await your arrival!
Categories: blog
« (Español) BRUNCH HOTEL SPA VILLALBA
A dreamy night awaits you at the Hotel Spa Villalba! »